A Message from the Director
Efforts to Restart Activities are Now Underway
2021/10/12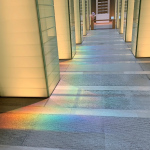 Hello, everyone. I am Noriyasu Takahira, the director of the Nagasaki National Peace Memorial Hall for the Atomic Bomb Victims.
On September 12, the national government lifted semi-emergency measures for Nagasaki Prefecture and on Monday, September 13 the Peace Memorial Hall once again reopened. We are now gradually starting up our regular activities again.
Since Saturday, September 25, recitals have been held at the Peace Memorial Hall by Towa no Kai; Narrators of the Experiences of the Atomic Bombing Victims. Looking ahead, preparations are underway for a number of events either hosted or cohosted by the Hall, such as the International Speech Contest in Japanese (November 6), the 11th Special Exhibition Memories of Urakami (November 19 – 28), a special Nagasaki exhibition from the Great East Japan Earthquake and Nuclear Disaster Memorial Museum (December 3 – 19), the Nagasaki International Film Forum (December 19), and the Asian Youth Peace Network Program (February 26 – 27).
While medical specialists have voiced concerns that a sixth wave of increased infections of the novel coronavirus might be coming, we hope that all these projects will be concluded as planned.
Each February and October, a rainbow is visible in the Remembrance Hall at our facility. The rainbow that appeared this October was particularly beautiful, hopefully signaling a path to a future and an end to the coronavirus pandemic.
We at the Peace Memorial Hall are making steady efforts to return to everyday life. We intend to continue working to convey the facts of the atomic bombings to people in Japan and around the world and tell younger generations about the experiences of the atomic bombing survivors.
I ask for your understanding and cooperation with all future activities of the Peace Memorial Hall.