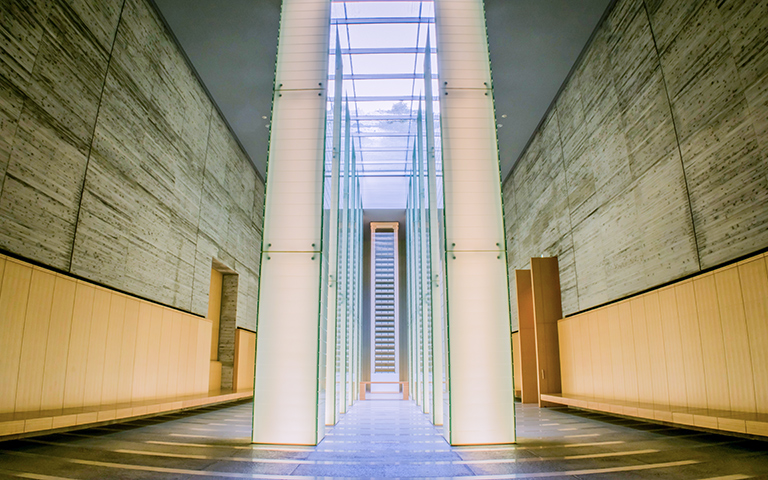 A place of
commemoration and prayer
The Nagasaki National Peace Memorial Hall for the Atomic Bomb Victims is a place where visitors may commemorate those who lost their lives as a result of the atomic bombing and offer prayers for everlasting peace.
Main functions
A place of
commemoration and prayer
The Memorial Hall hosts services aimed at increasing awareness about peace and activities commemorating the victims of the atomic bombing.
Collecting and disseminating information and archival materials about the atomic bombing
We gather materials relating to the atomic bombing out of a desire to pass on the experiences of the victims to future generations, heighten awareness about the importance of peace, and deepen international understanding.
Providing medical information about radiation illnesses and engaging in international exchange
We engage in international cooperation and exchange in order to increase awareness about the experiences of the atomic bombings and the preciousness of peace.

This site provides materials about the experiences of bomb victims and information about the effects of radiation.
(Click here to go to the website of the Global Network of the National Peace Memorial Halls for the Atomic Bomb Victims in Hiroshima and Nagasaki)


 Hirano-machi 7-8, Nagasaki-shi, Nagasaki 852-8117, Japan

 +81-(0)95-814-0055 

 +81-(0)95-814-0056
Open
May to August / 8:30 - 18:30
August 7 - 9 / 8:30 - 20:00
September to April / 8:30 - 17:30
Closed
December 29 - 31
Admission
Free